Bobby Gill is Co-founder and Chief Operations Officer of Cupid Charities, a 501(c)(3) non-profit organization that produces the worldwide charity run series. The Run Series raises millions of dollars each year to fund neuro fibro matosis research, a rare genetic disorder causing tumors to grow rampantly on the nervous system.
[box style="download"]To download the MP3, we recommend for the best experience. Or, if you're in a hurry and want the MP3 without visiting iTunes,


[/box]
In a previous life, Bobby was a biomedical engineer for the Food & Drug Administration reviewing cardiovascular devices for safety and effectiveness. As the success and demands of grew, he shifted his career path from federal to philanthropic and hasn't looked back since. He now spends his days optimizing fundraising efforts and ensuring that the largely volunteer organization grows sustainably.
What is Cupid's Undie Run?
is a mile(ish) run in your bedroom-best on Valentine's weekend. No, they're not crazy, they're just crazy serious about raising money for . They raised over $2.8 Million in donations last year!
The organization was founded by friends Bobby Gill, Brendan Hanrahan and Chad Leathers, who wanted to raise money for the to fund research for  neurofibromatosis (NF), a disease (affecting Chad's brother) that causes tumors to develop in the nervous system beginning in childhood. This is the same condition that affects Nick Gilbert, the son of Cavaliers owner Dan Gilbert (who is a major supporter of Cupid's).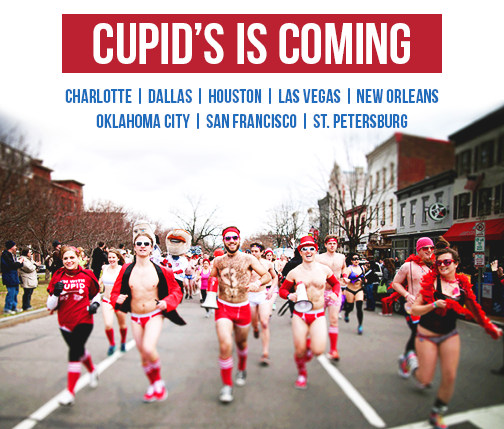 Connect with Bobby Gill and Cupids Undie Run on Social Media
2015 : stop thinking, start doing. REGISTER:

— ♥ Cupids Undie Run ♥ (@CupidsUndieRun)
Original photo on cover art courtesy of jtcphotographydc.com This ratio, too, will be easy to find at http://www.jetessay.com your local nursery